Indian weddings are a grandeur filled with celebration, colours, exotic food, fine jewellery, intricate clothes and happiness in the air. There is not an iota of doubt that Indian weddings are executed with pomp and gaiety. It is more than grand; it is a high spirit environment. The venue of Indian wedding is highly decorative and floral arrangements are primary among them. To this, add the beauty of the Indian bride.
The bride is draped in the most exotic of silks and gold to make her look like a goddess. The Indian bride always attracts all the attention for her impeccable makeup and hairdo. Wedding makeup done by bridal makeup artist from Skulpt, Chennai plays a pivotal role in dressing up the Indian bride. Here is an elaborate on our recent project to give you a better understanding of the magnificence of an Indian wedding.
What makes the Indian wedding a head turner?
People Do Make A Difference in Wedding
A huge gathering with hundreds of people dressed in their best, roaming around could be a shock for a first timer at the Indian wedding. Well it is no exaggeration and it is a common sight at all Indian weddings, irrespective of the volume of grandeur. There is no doubt that it is one of the most elaborate and high energy environments. Any Indian wedding venue is electrifying with a host of activities. For a first timer you are sure to carry rich memories of the wedding event.
All near and dear attend the wedding as guests play a crucial role in Indian culture and they are treated as God. Their blessing is vital for the happiness of the couple. The gathering could leave you perplexed at times but once you are part of it, you will fall in love with it.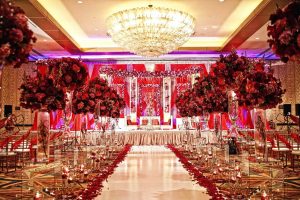 Decorations & Wedding
Decorations and Indian wedding go hand in hand. Decorations are part of any event and weddings are extra special. Indian weddings are dominated with floral decors. Flowers are the way of life here and they not just look artistic but divine. It is not an exaggeration if we say that the decors are simply awe-inspiring. Flowers are a symbol of happiness and prosperity; you can see breathtaking flower arrangements everywhere. There are many kinds of flowers used and among them Marigolds symbolizing the sun is used to decorate the entryway and the stage. It brings about positivism.
The South Indian bride cannot go without Jasmine flower decoration on her hair. It is considered auspicious and brings about sweet fragrance. It adds grace to the gracious bride. Modern day weddings use more of lilies to spark off a new relationship. The subtle white colour adds immense beauty to the venue. Orchids are a recent addition and are a luxury. It comes in most enthralling combinations and is a mark of opulence.
Importance of Rituals in Wedding
Indian weddings are elaborate and go on anywhere between 3-5 days. So make sure you are free for at least three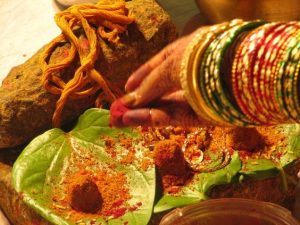 days. The wedding rituals are not an hourly event but goes on for days. But there is no doubt that every day is filled with fun and frolic. The pre-wedding events include:
      

Pitthi, where turmeric, rose water and chickpea flour is mixed and applied on the bride and the groom. It is believed to enhance the skin tone.

      

Mehandi event is filled with celebration and happens the night before the wedding. Professional mehandi artists apply intricate designs in henna on the palms and feet of the bride and the relatives. It is followed by songs and dance.

      

Baraat is a festive procession of the groom along with his family members and friends to the wedding venue. The groom rides on a horse with family and friends singing and dancing all the way to the venue.
Gourmet's Delight in Indian Wedding
Food marks the celebrations. You can find a host of food varieties and at times you will be swept over your heels by the amazing spread that is laid in front of you. There are fusions of cuisines from all the lengths and breadths of the country. If you want to explore endless cuisine, this is the place to be. The queue system is also followed at the dining hall at the wedding venue. Waiting is part of buffet ritual until the plates are filled with colourful and mouth-watering servings mostly vegetarian in nature.
Never miss out on an Indian wedding as you are sure to feel at home and will soon immerse in every activity leaving you with cherishing memories for life.