Dental office as a healing environment
Dental clinics have a bad reputation for being unpleasant places to visit, but creating a welcoming environment can help change that. Nothing compares to the simplicity and elegance a flower arrangement can bring to a dentist's office. Simple flower arrangements are ideal for decorating your dental office to make your patients feel comfortable. Making the environment welcoming for patients with flowers can certainly drive in many clients.
After all, dental clinic branding is important to stand out and be remembered and should not be restricted to your social media presence alone. 4SQ, a leading dental hospital in Gowrivakkam (https://www.4squaresdentistry.in/dental-clinic-gowrivakkam/), shares its insights on creating the right ambience that is warm and welcoming for the patients. Find out more here.
Tips For Designing a Calm and Stunning Dental Clinic
Conventional health care settings are rarely therapeutic. Thankfully, evidence-based health care design has been developed to improve dental patients' health care delivery and patient satisfaction. Dental spas are one such instance. Research shows that healing designs, as in dental spas, can reduce stress for patients.
To create a healing environment, begin with a well-lit entrance, remove clutter, and make sure the door opens completely. Interior designers can create a healing environment for patients and staff by harnessing and organizing the five essential elements of nature.
Patients should relax in a reception area furnished with comfortable chairs, fresh flowers or live plants, and a selection of healthy snacks and beverages. Similarly, natural lighting, comfortable chairs, and views of nature are important to create a relaxing environment for patients. Clutter in a treatment room is not a good idea.
Besides the therapeutic environment of your dental spas, the psychological component of a healing environment is also an imperative point to consider. Ensure that your dental office staff members view patients as legitimate healthcare concerns.
Simple things like addressing the patient by name, speaking in a soothing voice, explaining what is going on with the patient's treatment, and protecting the patient's privacy can make a big difference. Humour can reduce stress hormone levels and reduce pain medication for dental patients.
It is also important to note that patients should be notified of long wait times, and staff should provide timely care. Patients should be informed about their treatment options and receive updates along the way. They should also be allowed to bring with them certain items that can positively impact their healing process. Also, make sure that staff do not make phone calls in an area where patients can see them.
Here are a few tips from a leading dentist from the best dental clinic in Gowrivakkam to help make your dental workspace as healing and therapeutic as possible.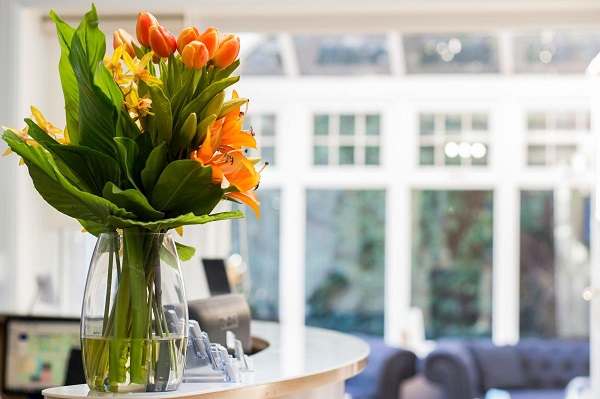 Tips for creating a therapeutic environment in dental clinics
Following tips can help you create a serene and visually appealing environment and help you transform and scale your business to new heights.
Create a workspace for young professionals to charge their laptops.
Use scented candles, soft music, and plush materials to enhance the environment.
Create a separate area for children's entertainment. Children aren't difficult to please.
Ensure that your staff members are comfortable when designing the interior of your dental clinic
Simple flower arrangements are ideal for decorating your dental office
Incorporate plants into your office to bring life and fresh air into your workspace
Make your waiting room more interesting by using personality
Avoid the traditional sterile medical office aesthetic.
Some office spaces are quite modest in size, but hanging flowers from the ceiling will allow you to use your space better. In other words, improving your office decoration and vacation planning skills will make your office more inviting and also improve your branding.