The simplest and most natural way of uplifting any space is flowers. A single red bloom kept in a clear glass vase is enough to add colour and vibrancy to even the drabbest corner. It is not just their bright shades that bring joy and a sense of beauty to a place. It is also the sweet aromatic scent they give off. While there was a time when only a Flowers Bouquet Shop could make decorative pieces, it no more applies. Today, thanks to the veritable smorgasbord of bloom available in the market, one can do DIY home decor.
From unique to eye-catching to artful to utterly breathtaking, there are hundreds of ways to create flower decoration.
Fill your everyday life with instant cheer with some of these ideas:
• Create a monogram of your name initials or your loved ones using flowers and some bright green leaves.
• Instead of using store bought flowers, use wildflowers as a centre table piece. Swap the conventional vase for something antique like a porcelain jug for an indeed attention-grabbing idea.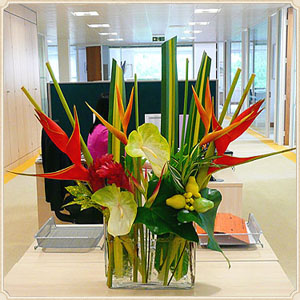 • Spread out candles all over the home after covering them with dainty flowering twigs. Use a piece of rope or twine to tie the sprigs around the candle.
These were some quick flower decorations ideas that can be used to refresh a home. They are not time-consuming or too burdensome on the pocket. But there certain occasions and events that call for more complicated flower setups. Here are some inspirations to bring a new spirit to your house for special days like anniversaries and birthdays.
• Make a small wall of pastel shaded flowers and keep it on the mantel. Add block letters to spell out the name of the particular person of the day.
• If you are having guests for a stayover, then add a floating flower bowl in the bathroom. Take a see-through glass container, add water and then float short stemmed flowers in it. The trick is to use different shades of the same colour. Add bubble wrap on the underside of the flowers to make the float for extended periods.
• If you want a more elaborate decor, then think of creating an upside down piece over the dining table. Use a wooden crate, attach flowers to its base and then invert it. Mount the box above the table to give an artsy look.
• Another idea that brings a surprisingly lasting effect is pressed flowers. Use tiny blooms and then press them between two glass frames. The decor will last a long time and offer an unmatchable appeal to the living room. We promise it will instantly transform the space.
The best part about floral decoration is that you can use cut flowers from your own garden as long as the weather permits. Additionally, you can mix as many colours and shades you want. You don't even need to worry if one particular stem will match with another kind of bloom. The sky is the limit when it comes to making flower arrangements.