It is said that every bride is as pretty and lovely as a delicate yet gorgeous flower. She always looks her best on her wedding day as the glow of true love and blush of passion adorns her pretty face making her look like a real-life princess. A bride is never complete without her wedding jewels. She is decked up in all precious jewels that make her look stunning as a goddess on earth. So, what would be the best jewel for the pretty bride? Obviously, the glowing bride looks her best in floral wedding jewellery! Floral jewels are often inspired by the mesmerising beauties of nature. Almost all the well-known poetries, artworks, sculptures, and music are created from the inspirations of nature's hues, its flora and fauna!Likewise, floral wedding jewellery also draws inspiration from the countless blooming flowers all around mother nature.
Even renowned artists like Raja Ravi Verma was floored by the fascinating beauty of flowers and used to draw artworks of beguiling women adorned in floral jewels. Most of the well known mythological characters like Menaka, Shakunthala and even the most recent blockbuster hit Bahubali had heroines wearing blooming flowers as their jewels. Here are some ways in which floral designs can be used in jewels:
For Your Mehandi
Mehandi is a simple yet traditional function where the jewels are used to a minimum. It would be a great idea to adorn the bride-to-be in exquisite fresh flower jewels, or florally inspired jewels. You could choose intricate floral patterns in necklaces, beadworks, bangles, etc. You can draw inspirations from Mughal or Pakistani jewel works and make the bride look as pretty as a freshly bloomed flower!
Maang-Tikka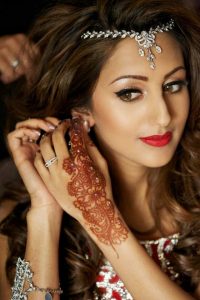 Make a fresh change and do away with the boring maang tikka styles. Choose a floral maang tikka for the bride and be spellbound as she blushes in its hue. A maang tika is the perfect jewel that enhances the feminity, grace, and elegance of the bride.
Floral Earrings!
Floral earrings make the bride look enticing and ravishing. Floral patterns have an undisputed aura that can make the suave groom go weak on his knees just at the sight of his beloved bride. Floral patterns continue to inspire jewellers all over the world. Be it an Online diamond store or any brick and mortar diamond jewellers; floral patterns rule the game in almost all the jewel motifs. The link https://feltmagnet.com/crafts/rose-beads provides an insight into how rose beads can be made with the wedding flowers.
Floral Chokers!
The bride can easily steal the limelight with a spectacular floral choker. An exquisite floral choker is a must if you wish to add a dash of mystique and queenly look to the beauteous bride. Floral chokers often consist of small bead works and contrasting pendants assembled perfectly to make a gorgeous floral necklace that embraces the neck of the enchanting bride.
These are some ways in which floral designs can be incorporated into the wedding jewellery. The floral jewels cast a magical spell that makes the bride look ravishing and elegant. As she smiles and blushes, adorned by floral jewels; the whole world can't help but go awe-struck at her exquisite looks!
Also Read : Ideas for Choosing Wedding Flowers with Event Planners.