Flowers and Indian weddings always go hand in hand. You can never even imagine an Indian wedding without floral decorations in the venue. Fowers are also used in adorning the gorgeous bride. A traditional Indian bride is always decked up with beautiful flowers that make her look the traditional best on her special day. Here are some of how flowers are used in Indian weddings:
Bond Together In Eternal Love By Jaimalas
Jaimalas is one of the most important parts of Indian weddings. The bride and groom adorn each other jaimalas made of fresh flowers. It symbolises the first time the bride and groom are bonded in the name of eternal love in the front of God. They chant and reaffirm the dharmas of a husband and wife and take vows to be together in happiness, sadness, good health and illness. Usually, the jaimalas are made of fresh roses, orchids or carnations.
The Floral Mandaps for a wedding
A mandap is a place where the wedding takes place. India is rich in cultures, customs and religions. Usually, hindus get married in traditional mandaps made of beautiful flowers. In some cases, the whole mandap is made of a large number of flowers of varying colours making it an eye-catchy sight to behold.
Floral Petals For Traditional Pooja during Indian Wedding.
The wedding ceremony begins with a Ganesh pooja. Lord Ganesh is regarded as the God of good beginnings. Often in all the auspicious occasion, a pooja is performed to lord Ganesh to usher in good luck and prosperity. Likewise, in a wedding also, even before the ceremony starts, a pooja is performed for ushering in good luck and blessings of Lord Ganesh. Floral petals are offered to the lord during the pooja.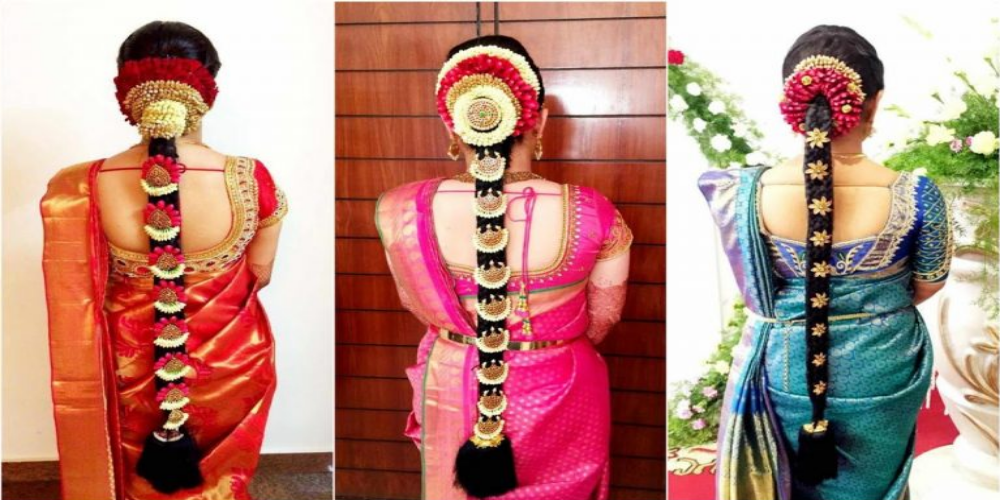 Deck Up The Bride's Hair With Fresh Flowers with a Bridal Artist
Usually, in south India, the traditional bride's look is complete only when they are decked up with fresh flowers on their hair. Although different customs have different traditional hair designs, usually the brides and the bridal makeup artists prefer to adorn the hair with fresh flowers like jasmines and roses irrespective of the customs. The link https://www.yahoo.com/lifestyle/20-fall-wedding-flowers-gorgeous-192009911/photo-p-queen-protea-show-stopping-photo-200306131.html gives you an insight into some gorgeous wedding flower arrangements.
Most Commonly Used Flowers In Indian Weddings
Also Read : Floral Decors done with Event Planners.
Though there is countless number of pretty flowers, there are some select flowers that are widely used in Indian marriages. Let us take a look at the exclusive wedding florals:
Ø Ravishing Oranges And Golds- Marigolds!
Marigolds are ravishing beauties available in both golden and orange hues. The rich hues seem to sparkle and spread spirits of happiness and joy. It fills our minds with its radiant positive energy and hence is one of the most sought-after flowers in wedding decor. Marigolds are a must for the traditional Hindu weddings. The marriage mandap and even the entrances are often seen to be decorated in strands of this golden and orange coloured beauties. Marigolds are also believed to symbolise the positive energy of the sun.
Sweet And Fragrant Jasmine!
Jasmine flowers are must-haves in almost all the south Indian weddings. These tiny white coloured flowers with a sweet fragrance are sure to leave you enchanted. Jasmines are considered to symbolise good fortune, luck and prosperity. Jasmines are both used in decorating the wedding venue and also used in decking up the pretty bride's hair. The serene white colour of jasmine flowers symbolises purity and chastity.